We have a thriving book club here at Jaffé & Neale, which meets at 6.30pm on the last Wednesday of every month in Stow-on-the-Wold. There's no membership, no charge, and no obligation to come every month, so if you like the sound of a particular book, and would like to informally discuss it over a glass of wine, we'd love to see you. Check this page for our current book titles. We also offer 10% off our book club choice in store.
We all have our own particular reading tastes, be it classical fiction, historical literature or gripping thrillers, but being a part of a book club allows us to step outside our reading comfort zone and explore other genres. Love it or hate it, there is always a discussion to be had. You never know, there may be a new favourite read among the chosen books….
Wednesday March 25th 2020 
Drive Your Plough Over the Bones of the Dead
by Olga Tokarczuk
In a remote Polish village, Janina Duszejko, an eccentric woman in her sixties, recounts the events surrounding the disappearance of her two dogs. She is reclusive, preferring the company of animals to people; she's unconventional, believing in the stars; and she is fond of the poetry of William Blake, from whose work the title of the book is taken.
When members of a local hunting club are found murdered, Duszejko becomes involved in the investigation. By no means a conventional crime story, this existential thriller by `one of Europe's major humanist writers' (GUARDIAN) offers thought-provoking ideas on our perceptions of madness, injustice against marginalized people, animal rights, the hypocrisy of traditional religion, belief in predestination – and caused a genuine political uproar in Tokarczuk's native Poland.
Thursday February 27th 2020 
Things in Jars
by Jess Kidd
London, 1863. A strange puzzle has reached Bridie Devine, the finest female detective of her age. To recover a stolen child, Bridie must enter the dark world of medical curiosities.
The public love a spectacle and this child may well prove the most remarkable spectacle London has ever seen. Things in Jars is a Victorian novel unlike any other, one that explores what it is to be human in inhumane times.
Wednesday January 29th 2020 
Prisoners of Geography: Ten Maps That Tell You Everything You Need To Know About Global Politics
by Tim Marshall

All leaders are constrained by geography. Their choices are limited by mountains, rivers, seas and concrete. Yes, to understand world events you need to understand people, ideas and movements…but if you don't know geography, you'll never have the full picture.; To understand Putin's actions, for example, it is essential to consider that, to be a world power, Russia must have a navy.
And if its ports freeze for six months each year then it must have access to a warm water port – hence, the annexation of Crimea was the only option for Putin. To understand the Middle East, it is crucial to know that geography is the reason why countries have logically been shaped as they are – and this is why invented countries (e.g. Syria, Iraq, Libya) will not survive as nation states.;Spread over ten chapters (covering Russia; China; the USA; Latin America; the Middle East; Africa; India and Pakistan; Europe; Japan and Korea; and Greenland and the Arctic), using maps, essays and occasionally the personal experiences of the widely travelled author, Prisoners of Geography looks at the past, present and future to offer an essential guide to one of the major determining factors in world history.
Wednesday November 27

th 2019 
Autumn
by Ali Smith
Elisabeth, born in 1984, has her eye on the future. The United Kingdom is in pieces, divided by a historic once-in-a-generation summer. Love is won, love is lost.
Hope is hand in hand with hopelessness. The seasons roll round, as ever . . .
Wednesday October 30th 2019 
The Wisdom of Psychopaths
by Kevin Dutton

Psychopath. No sooner is the word out than images of murderers, rapists, suicide bombers and gangsters flash across our minds. But unlike their box-office counterparts, not all psychopaths are violent, or even criminal.
Far from it. In fact, they have a lot of good things going for them. Psychopaths are fearless, confident, charismatic, ruthless and focused – qualities tailor-made for success in twenty-first-century society.
In this groundbreaking adventure into the world of psychopaths, renowned psychologist Kevin Dutton reveals a shocking truth: beneath the hype and the popular characterisation, psychopaths have something to teach us.
Wednesday September 25th 2019 
So Long, See You Tomorrow
by William Maxwell
In rural Illinois two tenant farmers share much, finally too much, until jealously leads to murder and suicide. A tenuous friendship between lonely teenagers – the narrator, whose mother has died young, and Cletus Smith, the troubled witness to his parent's misery – is shattered. After the murder and upheavals that follow, the boys never speak again.
Fifty years on, the narrator attempts a reconstruction of those devastating events and the atonement of a lifetime's regret.
Wednesday August 28th 2019 
Mothering Sunday
by Graham Swift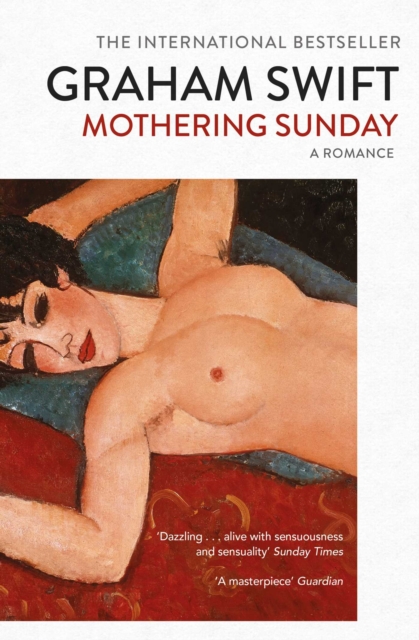 It is March 30th 1924. It is Mothering Sunday. How will Jane Fairchild, orphan and housemaid, occupy her time when she has no mother to visit? How, shaped by the events of this never to be forgotten day, will her future unfold? Beginning with an intimate assignation and opening to embrace decades, Mothering Sunday has at its heart both the story of a life and the life that stories can magically contain.
Constantly surprising, joyously sensual and deeply moving, it is Graham Swift at his thrilling best.
Wednesday July 24th 2019 
Jeeves and the King of Clubs
by Ben Schott

Treason is afoot in the highest social circles. The very security of the nation is in peril. Jeeves, it transpires, has long been an agent of British Intelligence, but now His Majesty's Government must turn to the one man who can help . . . Bertie Wooster.
In this magnificent new homage to P. G. Wodehouse, Ben Schott leads Jeeves and Wooster on an uproarious adventure of espionage through the secret corridors of Whitehall, the sunlit lawns of Brinkley Court, and the private clubs of St James's.
Wednesday June 26th 2019 
All Among the Barley
by Melissa Harrison

The fields were eternal, our life the only way of things, and I would do whatever was required of me to protect it. The autumn of 1933 is the most beautiful Edie Mather can remember, though the Great War still casts a shadow over the cornfields of her beloved home, Wych Farm. When charismatic, outspoken Constance FitzAllen arrives from London to write about fading rural traditions, she takes an interest in fourteen-year-old Edie, showing her a kindness she has never known before.
But the older woman isn't quite what she seems. As harvest time approaches and pressures mount on the whole community, Edie must find a way to trust her instincts and save herself from disaster.